SQ10 Truck Mounted Crane (Straight Boom Crane)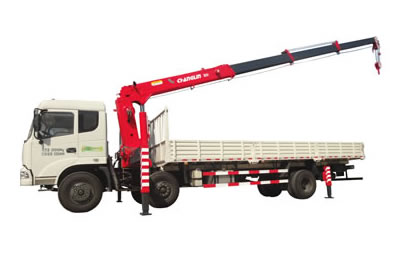 As a straight boom crane, our SQ10 truck mounted crane adopts planetary reducer to guarantee stable 360°rotation.
The front outrigger of the truck crane is designed with a longer span which is 5.56m maximum.
As for standard configuration of our heavy machinery, the rear outrigger is fixed outrigger. You can also select hydraulic rear outrigger to increase the stability of the truck mounted crane and improve its adaptability to complex working conditions.
Hexagon sections give good lateral stability to the hoisting machinery.
Controlled by the main control valves, our truck mounted crane supports both-side manipulation.
The outriggers are controlled by separate valves. Improper operation will be avoided thanks to the employment of selector valves.
Height limit switch, over winding alarm device and high power LED light come as standard configurations of our truck mounted crane.
Moment limiter can be fitted to this heavy engineering machinery optionally to create a safer working environment for the operators.
Technical Parameters of Truck Mounted Crane:
Order
Item
Unit
Parameter
1
Maximum load moment
kN·m
250
2
Maximum lifting load
kg
10000
3
Maximum working height
mm
13300
4
Boom length (fully retracted)
mm
4360
5
Maximum lifting height (from the ground)
mm
About 16600
6
Lifting ratio
6/4
7
Maximum elevation angle of boom
(°)
75
8
Minimum elevation angle of boom
(°)
0
9
Lateral span of the front outrigger
mm
2114~5560
10
Lateral span of the rear outrigger
mm
2200
11
Maximum lifting speed
Main hook (single rope)
Lifting
m/min
60
Lowering
60
12
Rotation speed
r/min
≤2.5
13
Rotation angle
°
360° full rotation
14
Crane weight
kg
4036 (including rear outrigger)
15
Fuel pump
-------------
Gear pump
16
Fuel tank capacity
L
170
17
Working pressure of hydraulic system
MPa
23
18
Flow of hydraulic system
L/min
80
Lifting Performance of Truck Mounted Crane:
Load (kg)
Range (m)
Load weight (kg)
One-section boom
Two-section boom
Three-section boom
Four-section boom
2.5
*10000
6700
5000
4400
3.0
*8400
6500
5350
4200
3.5
7300
6000
5200
4000
4.0
6500
5400
4800
3950
5
6000 (4.4)
4500
4000
3200
6
3800
3500
2900
7
3400
3000
2500
8
2900 (7.4)
2600
2300
9
2400
2200
10
2100
2000
11
1900 (10.4)
1700
12
1400
13
1300 (13.3)
14
16
Lifting ratio
The lifting ratio is 6 for the items marked with * and is 4 for the other items.
Rated lifting weight includes the weight of hook (108kg) and other lifting accessories. The outrigger must stand on flat and solid ground.
The actual lifting weight is dependent on the actual working radius.
When the boom length is over 6m, the outrigger must fully stretch out.
Parameters in the above table do not allow for boom deflection.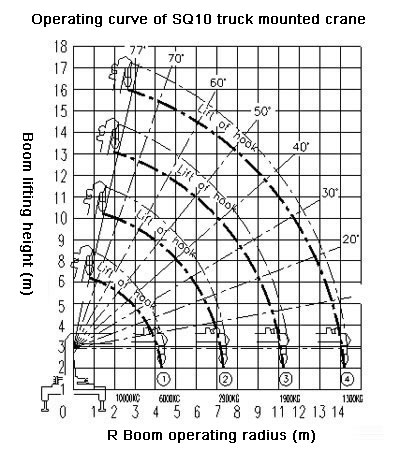 Welcome to choose SINOMACH construction machinery (engineering vehicle/construction equipment).
Besides the SQ10 model truck mounted crane, SINOMACH have many other kinds of heavy construction and engineering equipment for sale.
Brief Description
SINOMACH as a reliable heavy equipment company in China, is making construction equipment for road construction and foundation engineering with decades of experience, SINOMACH has been a high quality heavy equipment maker in China and provide construction equipment and engineering vehicle with resonable prices.